*TRAFFIC ADVISORY* NEW EXIT TO GRASS LOT AND RIDESHARE ZONE ADDED AT DTE ENERGY MUSIC THEATRE
Jul 16, 2019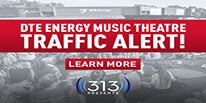 (DETROIT – July 16, 2019) – To help alleviate congestion and traffic back-ups when exiting DTE Energy Music Theatre due to construction on Sashabaw Road, 313 Presents and Independence Township have added a temporary exit at the grass parking lot located at the northwest area of the venue grounds.
Vehicles parked in the grass lot will be directed to exit West on Clarkston Road to M-15 and proceed approximately three miles to I-75 via M-15. Other vehicles will continue to be directed to regular exit routes. Vehicles exiting 33 Bob Seger Drive (the newly named north entrance off of Sashabaw Road) are directed South on Sashabaw Road to I-75, while vehicles exiting Pine Knob Road are either directed North to exit East on Clarkston Road or follow Pine Knob Road to exit West on Waldon Road to I-75.
In addition, a Rideshare Zone is now available to ease traffic flow for Uber, Lyft and other rideshares dropping off and picking up guests attending concerts at DTE Energy Music Theatre. All rideshares should enter the South Drive entrance from northbound Sashabaw Road and stay in the left-hand lane for both drop-offs and pick-ups. During inbound traffic, rideshares will exit the venue grounds at Pine Knob Road after dropping off their guests. During outbound traffic, rideshares will pick up guests in the Rideshare Zone and will be directed onto 33 Bob Seger Drive back to Sashabaw Road.
313 Presents continues to strongly advise guests to arrive early for this season's concert lineup as construction continues on Sashabaw Road, the I-75 modernization project, and other I-75 road and bridge repairs are being completed. Please continue to follow all traffic signs, lights and suggested routes as each project nears completion this fall.
Sashabaw Road is undergoing reconstruction and widening from three to five lanes from I‑75 to just south of Clarkston Road in Independence Twp. Information and updates can be found at: www.rcocweb.org/469/Sashabaw-Road-I-75-to-Clarkston-Road.
Also throughout the duration of the 2019 concert season, I-75 will be under construction from Coolidge Highway to 13 Mile Road as Michigan Department of Transportation (MDOT) continues its work on the I-75 modernization project (www.modernize75.com).
MDOT is also repairing 21 bridges on I-75 between South Boulevard and Baldwin Road. Both directions of I-75 may be reduced to a single lane on nights and weekends. More information on I‑75 Road and Bridge Repairs can be found at www.michigan.gov/documents/mdot/I-75_Oakland_Project_brochure_653327_7.pdf.
The DTE Energy Music Theatre parking lot will be open by 4:30 p.m. Gates open 90 minutes prior to show time, unless otherwise noted. Please check in on the respective event pages on DTE Energy Music Theatre's Facebook page to confirm timing.
To receive announcements and the most up-to-date concert information, follow DTE Energy Music on Twitter at @DTEEnergyMusic and on Facebook at DTE Energy Music Theatre.