*TRAFFIC ADVISORY* THE 1975 AT MEADOW BROOK AMPHITHEATRE AND FESTIVAL OF LAUGHS AT THE FOX THEATRE SATURDAY, MAY 11
Patrons Urged to Arrive Early and Prepare for Increased Traffic on Roads Due to Closing of I-75 from I-696 to Square Lake Road
May 9, 2019
(DETROIT – May 9, 2019) – 313 Presents opens the 2019 summer concert season with breakthrough British band The 1975 with special guest Pale Waves performing at Meadow Brook Amphitheatre on the campus of Oakland University, while Festival of Laughs featuring Sommore, George Wallace, DC Young Fly, Lavell Crawford, Mark Curry and Guy Torry returns to the Fox Theatre in The District Detroit on Saturday, May 11.
In anticipation of increased traffic due to I-75 modernization project continuing with Michigan Department of Transportation (MDOT) contracting crews closing both directions of I-75 between I-696 and Square Lake Road beginning Friday, May 10 at 10 p.m. through Monday, May 13 at 5 a.m., 313 Presents is strongly advising guests planning to attend this Saturday's events to arrive early.
Per MDOT, the posted detour for northbound and southbound I-75 is M-1 (Woodward Avenue). Detours will be posted for local road traffic using the Wattles Road and Corporate Drive overpasses. For more information on the I-75 modernization project, please visit www.modernize75.com.
313 Presents Events for Saturday, May 11
The 1975 with special guest Pale Waves at Meadow Brook Amphitheatre
Parking lot opens at 3 p.m.
Gates open at 5:30 p.m.
Concert begins at 7 p.m.
Festival of Laughs at the Fox Theatre
Secure advanced parking online through ParkDistrictDetroit.com
Loge Doors & Woodward Doors into the Fox Theatre's lobby open at 6:30 p.m.
Doors into the theatre open at 7 p.m.
Show begins at 8 p.m.
Tickets are available for both events at 313Presents.com, the venue box offices and Ticketmaster.com.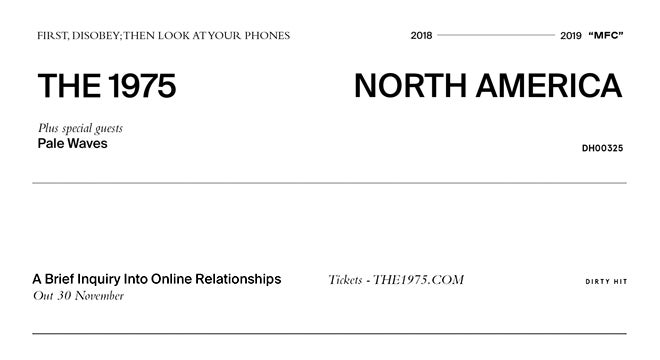 Meadow Brook Amphitheatre
with special guest Pale Waves