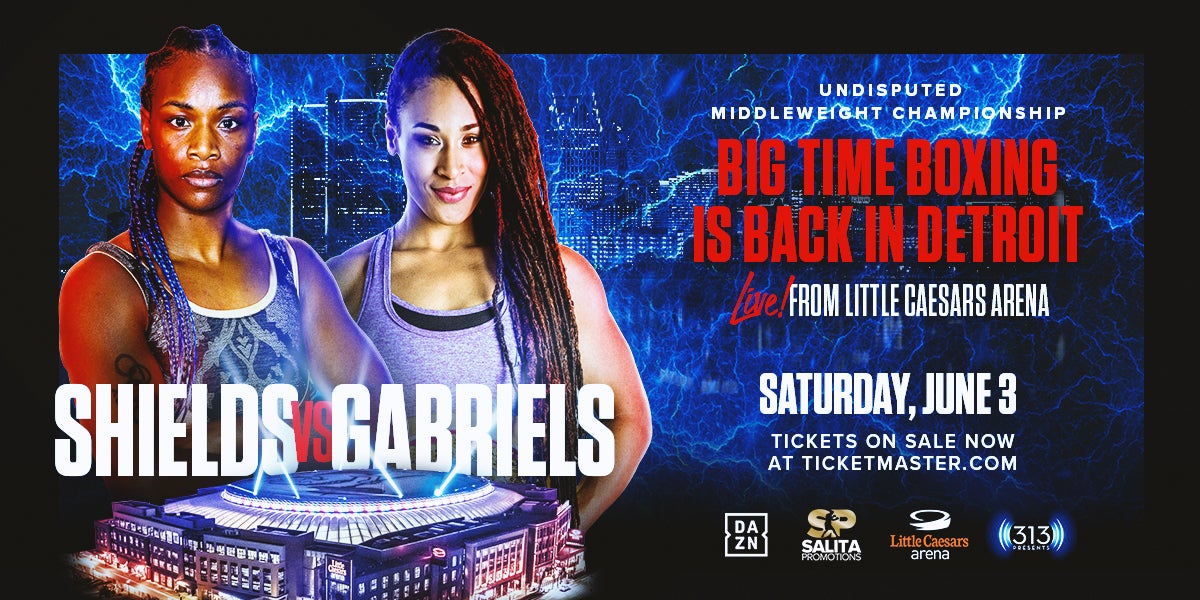 Unbeaten Super Welterweight & Flint-Native Ardreal Holmes To Face Wendy Toussaint In Claressa Shields Vs. Hanna Gabriels 2 Co-Feature
Intriguing Matchups Highlight Stacked Undercard as Big-Time Boxing Returns to Detroit on Saturday, June 3 from Little Caesars Arena and Streamed Live on DAZN
(DETROIT – May 16, 2023) – Flint's undefeated rising 154-pound contender Ardreal Holmes Jr. will face once-beaten New Yorker Wendy Toussaint on Saturday, June 3 in a 10-round battle for the USBA Super Welterweight title that will serve as the co-featured bout in support of the Claressa Shields vs. Hanna Gabriels main event rematch.
The event marks the return of big-time boxing to Detroit live from Little Caesars Arena and streaming on DAZN in the U.S. and Canada. The action will also include Grand Rapids, Michigan's undefeated Joseph Hicks taking on Atlanta-based Antonio Todd over eight rounds for the WBC Americas Silver Middleweight Championship.
Tickets for the live event are on sale now and can be purchased through 313Presents.com, Ticketmaster.com and the XFINITY Box Office at Little Caesars Arena. The event is promoted by Salita Promotions and 313 Presents and streams live on DAZN.
"These are two highly competitive fights with significant consequences for the winner," said Dmitriy Salita, President of Salita Promotions. "Both Ardreal and Hicks are some of the best talent from the state of Michigan and they're stepping into challenging fights with titles and world rankings at stake. These are the kind of rising stars and fights worthy of big-time boxing's return to Detroit."
The 28-year-old Holmes Jr. (13-0, 5 KOs), known in the ring as "Bossman," is a 6' 2" southpaw and 2016 U.S. Olympic alternate coming off a pair of impressive professional victories. In March of last year, he scored a nationally televised unanimous decision over Chicago's once-beaten Vernon Brown (then 13-1) and followed it up with a nationally televised split-decision over then undefeated New Yorker Ismael Villarreal (then 12-0) in February of this year.
Looking to close in on a title shot soon, Holmes says an impressive performance against the formidable Toussaint is crucial to his future plans.
"It means the world to me to be fighting in front of my fans in Michigan," said Holmes. "I want to put on a great performance in this fight and open the doors toward contending for a world title in the near future. Flint watched me and Claressa train together for years, so it'll be a treat for them to see us in action and in person on a night that's going to be one to remember."
Originally from Haiti, Huntington, New York's Toussaint (14-1, 6 KOs), known in the ring as "Haitian Fire," stands 5′ 10½″. The 31-year-old has served as one of the main sparring partners for former WBO World Light Heavyweight Champion, Joe Smith Jr. and was last seen scoring a near-shutout unanimous decision over then 15-4-1 Asinia Byfield in June of last year.
Toussaint left his native Haiti at the age of 10 and first moved to French Guiana where he began to box. After joining a local team, and traveling to different countries to fight, he and his family made the move to the United States seeking better opportunity and competition. A win over Holmes Jr., will provide those opportunities.
"I'm really excited for this fight," said Toussaint. "Winning this fight is going to propel me where I want to go, which is the top of the sport. I'm really happy with my team and promoter Joe DeGuardia of Star Boxing for putting me in this position."
The 29-year-old Hicks (6-0, 5 KOs) started boxing at 19 and became a standout amateur before entering the pro ranks. He was set to captain the U.S. Olympic Team at the 2020 summer games, before the COVID-19 pandemic delayed the proceedings. By the time the games were back on, the IOC's formula for picking fighters in his weight class left him on the outside looking in. Undeterred, Hicks has shined as a pro, including already scoring two wins this year with triumphs over Bilal Quintyne in February and Noah Kidd in April.
If Hicks is to continue his march up the ranks, he first must get past Todd (14-7, 8 KOs), who has already scored one huge upset in Michigan, as he took a surprise majority 10-round decision over then world-ranked Huge Centeno Jr., in January of last year in Dearborn.