TWO MICHIGAN LEGENDS COMBINE TO CREATE ONE PREMIER DESTINATION FOR WORLD-CLASS ENTERTAINMENT: 313 PRESENTS TO OFFER BOOKING AGENTS, TOURS AND FANS ONE-STOP SHOP FOR VENUES RANGING FROM 4,000 TO 40,000 IN CAPACITY
313Presents.com MAKES TICKETS, VENUE INFORMATION AND SCHEDULE UPDATES AVAILABLE IN ONE LOCATION FOR SIX WORLD-CLASS VENUES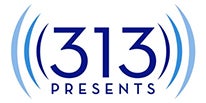 DETROIT, Mich. – October 9, 2017 – Olympia Entertainment (OEI) and Palace Sports & Entertainment (PS&E) today officially launched 313 PRESENTS, a joint venture combining each organization's entertainment businesses into a single company that will manage concerts and other entertainment events at six venues throughout Metro Detroit. Plans to create the joint venture were first announced last November by Christopher Ilitch, President and CEO of Ilitch Holdings, Inc., the Detroit Red Wings and the Detroit Tigers, and Tom Gores, owner of PS&E and the Detroit Pistons.
The name 313 Presents honors Detroit's rich history in music and brings together the resources of two of Michigan's most renowned entertainment businesses. By joining forces to create 313 Presents, OEI and PS&E will improve the fan experience, ensure the Detroit region continues attracting the most exciting acts in the world, and create more opportunities to support local and emerging artists.
Executives from OEI and PS&E said the joint venture will benefit concert-goers and industry professionals alike.
"Entertainment fans in our city, region and state are in for a treat, as 313 Presents will bring the world's most dynamic, exciting and diverse acts to our variety of world-class venues," said Chris Granger, Group President, Sports and Entertainment for Ilitch Holdings, Inc. "313 Presents will offer a simple and straightforward destination for fans to receive all of the tickets and information they need to enjoy these acts."
"From nationally-recognized venues to industry-best operational practices, 313 Presents will provide entertainment fans and industry insiders with the very best customer experience," said Arn Tellem, Vice Chairman for Palace Sports & Entertainment. "By working with 313 Presents, booking agents, tours and promoters will have a single source for booking venues from 4,000 to 40,000 in capacity depending on the artistic preference, career arc and popularity of the performer."
313 Presents today launched 313Presents.com, making tickets, venue information and schedule updates across all six venues accessible in one location. The site features a streamlined, intuitive navigation and is optimized for mobile use, making it easier to connect with 313 Presents venues on smartphones.
On the new 313Presents.com site users can:
- Purchase tickets to events scheduled at all 313 Presents venues
- Sign up to receive access to the latest information on presales, members-only experiences, contests, special offers and more
- Review venues' seating maps, directions, policies, parking and dining options
- Download concerts and events to your desktop or mobile calendar
Effective immediately, 313 Presents is now responsible for event bookings, event production, marketing and public relations for entertainment and events at the new state-of-the-art Little Caesars Arena, DTE Energy Music Theatre, the Fox Theatre, Meadow Brook Amphitheatre, Michigan Lottery Amphitheatre at Freedom Hill and Comerica Park. A search process has been initiated to hire an executive to lead the joint venture, which is headquartered in new offices at Little Caesars Arena. In the meantime, Tom Wilson, President and CEO of Olympia Entertainment, will serve as interim President.
Tickets for all events at 313 Presents venues are available for purchase at the Xfinity Box Office located at the Chevrolet Northeast Entry of Little Caesars Arena at 2645 Woodward Avenue, Detroit, MI 48201. In addition, tickets can also be purchased at the Fox Theatre box office located immediately next to the venue's main entrance at 2211 Woodward Avenue, Detroit, MI 48201. There is no service charge for tickets purchased at the venue box offices. All amphitheatre box offices are closed for the season and will reopen in May 2018. Tickets are also available at Ticketmaster.com or can be charged by phone by calling 800.745.3000.
Little Caesars Arena opened last month to rave reviews as Kid Rock with special guests Robert Randolph & the Family Band and Sweet Tea Trio performed six sold out shows from September 12-20. Ed Sheeran played to a capacity crowd on September 27, Paul McCartney completed a sold-out two-night stand on October 1 and 2, and the WWE's Hell in a Cell pay-per-view event took place October 8.