WILLIE NELSON & FAMILY AND ALISON KRAUSS ANNOUNCE DATE AT MICHIGAN LOTTERY AMPHITHEATRE AT FREEDOM HILL JUNE 25
Apr 8, 2019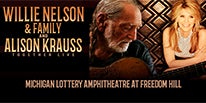 (DETROIT – April 8, 2019) – Willie Nelson & Family and Alison Krauss will perform at Michigan Lottery Amphitheatre at Freedom Hill as part of the Fifth Third Bank Concert Series on Tuesday, June 25 at 7:30 p.m.
Tickets (starting at $35) go on sale Friday, April 12 at 10 a.m. To purchase tickets for the lawn, Crest Ford pavilion and Ford Motor Company luxury seats, visit 313Presents.com, LiveNation.com, Little Caesars Arena XFINITY box office or Ticketmaster.com.
With a six-decade career and 200-plus albums, Willie Nelson is the creative genius behind the historic recordings Crazy, Red Headed Stranger and Stardust.
He's earned every conceivable award as a musician and amassed reputable credentials as an author, actor and activist.
Willie continues to thrive as a relevant and progressive musical and cultural force. In recent years he has delivered more than a dozen new albums, released a Top 10 New York Times' bestseller book; again headlined Farm Aid (an event he co-founded in 1985); received his fifth degree black belt in Gong Kwon Yu Sul; headlined the annual Luck Reunion food and music festival at his ranch in Luck, Texas, during SXSW; launched his cannabis company, Willie's Reserve; and graced the cover of Rolling Stone magazine.
Alison Krauss grew up listening to everything from folk to opera to pop and rock music, but quickly fell in love with bluegrass when she began playing fiddle at the age of five. Shortly after, Krauss began entering fiddle contests. At the age of 14, Rounder Records signed her to her first record deal and she went on to release her debut solo album two years later. The accomplished bluegrass musician became a member of the Grand Ole Opry at age 21.
Since 1985, Krauss has released 14 albums including five solo, seven with her longtime band and musical collaborators Union Station, and the Robert Plant collaboration Raising Sand. She's sold more than 12 million records to date, and her honors include 27 Grammys, nine Country Music Association awards, 14 International Bluegrass Music Association Awards, two Academy of Country Music Awards and two Gospel Music Association awards.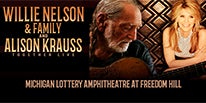 Michigan Lottery Amphitheatre at Freedom Hill