ZZ TOP EMBARKS ON 50TH ANNIVERSARY NORTH AMERICAN TOUR TO INCLUDE MICHIGAN LOTTERY AMPHITHEATRE AT FREEDOM HILL SEPTEMBER 8
Tickets Go On Sale Friday, April 19 at 10 a.m.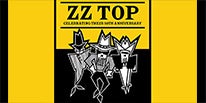 (DETROIT – April 8, 2019) – Rock and Roll Hall of Famers ZZ Top are celebrating their 50th year with a massive North American tour this summer. Kicking off August 16, the real Tres Hombres will play coast to coast and border to border. Cheap Trick will join for support when the tour stops at Michigan Lottery Amphitheatre at Freedom Hill on Sunday, September 8 at 7 p.m.
Tickets (starting at $35) go on sale Friday, April 19 at 10 a.m. To purchase tickets for the lawn, Crest Ford pavilion and Ford Motor Company luxury seats, visit 313Presents.com, LiveNation.com, Little Caesars Arena XFINITY box office or Ticketmaster.com.
ZZ Top still maintains the most consistently stable lineup in the history of rock music: Billy F Gibbons, Dusty Hill and Frank Beard. In 1969, BFG formed ZZ Top with drummer Beard and bass-guitarist Hill, both from the Dallas. Fifteen studio albums, 30 million record sales and 5 decades later, "That Little Ol' Band From Texas" is still going strong, playing timeless hits like "La Grange," "Legs," "Sharp Dressed Man" and "Tush" to audiences the world over.
Billy Gibbons looked back at the history of the band, while also looking forward to the 50th Anniversary tour dates. "It's been five decades, and I think we're starting to get pretty good at all this! The beards, Frank excepted, are perhaps a bit longer, yet nothing else has changed. We're keeping it that way."