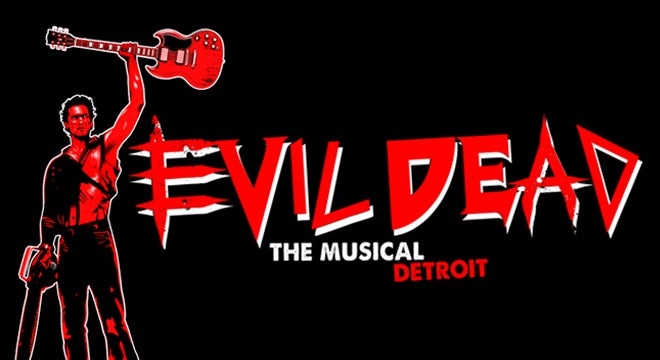 Buy Tickets
Sep

26

-

Nov

2

, 2019

City Theatre

Starting at $38.50

Tickets can be purchased at the Little Caesars Arena XFINITY box office and Ticketmaster.com.

---

Group Tickets

Discounts available for groups of 8 or more. Our Ticket Sales Executives are available Monday - Friday from 9 a.m. - 5:30 p.m. For more information on group sales, call 313.471.3099, email
[email protected] or
CLICK HERE to complete our interest form.
Seating Chart
Evil Dead: The Musical
Sep

26

-

Nov

2

, 2019
City Theatre
The hilariously, bloody tradition continues this fall as Evil Dead: The Musical returns for its tenth season performing at the City Theatre; presented by Sweat Equity Studio. A talented pack of local cast members, new and returning, will rise to bring the familiar tale to life with a six-week engagement from Thursday, September 26 through Saturday, November 2 at the City Theatre inside Hockeytown Cafe.
Please note: the Splatter Zone seats, where the blood really flows, are available on a first come, first served basis.
Based on Sam Raimi's 80's cult classic films, Evil Dead: The Musical unearths the old familiar story: boy and friends take a weekend getaway at abandoned cabin, boy expects to get lucky, boy unleashes ancient evil spirit, friends turn into Candarian Demons, boy fights until dawn to survive. As musical mayhem descends upon this sleepover in the woods, "camp" takes on a whole new meaning with uproarious numbers like "All the Men in my Life Keep Getting Killed by Candarian Demons", "What the F&%* Was That?" and "Do the Necronomicon".
With the approval of both Sam Raimi and the film's star, Bruce Campbell, the first musical version of the film was staged and enjoyed a successful workshop in Toronto and subsequent performances at the Just for Laughs Festival in Montreal in 2004. The Off-Broadway production opened on November 1, 2006 and ran through September 6, 2008.
Returning cast members include David Schoen as Jake and Garett Michael Harris as Ash. Greg Grobis will direct and Allyson Smith, a veteran of nine years, will choreograph, while her husband, Matthew Smith will provide music direction. Evil Dead: The Musical has book & lyrics by George Reinblatt and Music by Frank Cipolla, Christopher Bond, Melissa Morris, and George Reinblatt.
Group Sales
Bring a group to one of our amazing events and save big! For more group sales information, please CLICK HERE.
If you are interested in bringing a group to an upcoming event, please CLICK HERE to fill out our interest form and a Group Sales Executive will contact you within 48 hours. If you would like to speak with an executive, please call 313-471-3099.