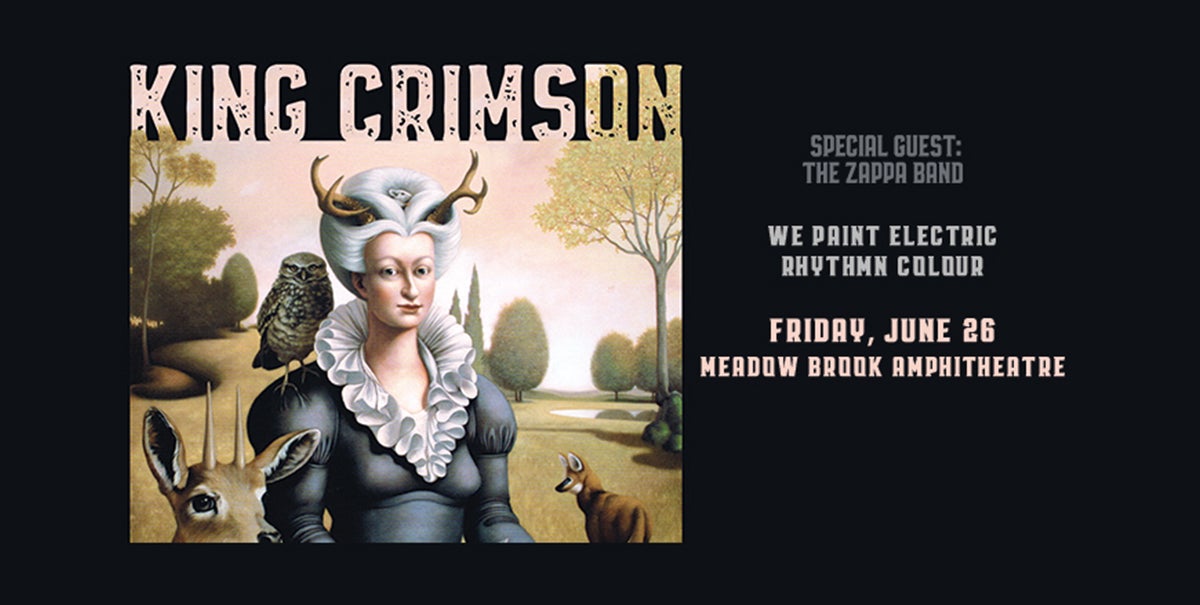 POSTPONED: King Crimson
"We Paint Electric Rhythmn Colour Tour" with special guest The Zappa Band
POSTPONED: King Crimson
"We Paint Electric Rhythmn Colour Tour" with special guest The Zappa Band
Event Details
King Crimson at Meadow Brook Amphitheatre on Friday, June 26 has been postponed. Your ticket will be honored for the rescheduled date. For any further ticket inquiries please reach out to point of purchase.
"The Summer tour will be a throwback one for us in a few ways; great to be going back to outdoor venues, some of them the 'sheds' we played in the 1980's. And we'll be travelling by tour bus, old school! As for what pieces we'll play, that hasn't been decided yet, but will likely be a wide selection from the 50 years of Crimson repertoire. With 7 players on stage we can cover it all." - Tony Levin
Since King Crimson's return to live performance in 2014, with critically acclaimed sellout shows all over the world their three-hour shows regularly include material from twelve of their thirteen studio albums, including many of the songs from their seminal 1969 album In The Court of the Crimson King, described by Pete Townshend, as an "uncanny masterpiece". The new 7-piece line-up plays many historic pieces which Crimson have never played live, as well as new arrangements of Crimson classics – "the music is new whenever it was written". There are also new instrumentals and songs, as well as the compositions by the three drummers, Pat Mastelotto, Gavin Harrison and Jeremy Stacey, which are a regular highlight. A unique show, where seven of the best musicians in the world play music without distraction or adornment.
King Crimson is:
Robert Fripp
Tony Levin
Jakko Jakszyk
Mel Collins
Jeremy Stacey
Gavin Harrison
Pat Mastelotto
"The Zappa Band" is composed primarily of former ZAPPA alumni. The touring unit is: Ray White (lead vocals, guitar), Mike Keneally (guitar, keys, vocals), Scott Thunes (bassist) and Robert Martin (keyboards, sax, vocals). Also joining are ZPZ alums Jamie Kime (guitar) and ZAPPA archivist Joe "Vaultmeister" Travers (drums, vocals). The band will be performing a strong mix of Zappa classics along with new and rare Zappa compositions. This is the ultimate Zappa alumni band in partnership the Zappa Trust. Don't miss your chance to see these virtuosos perform live.