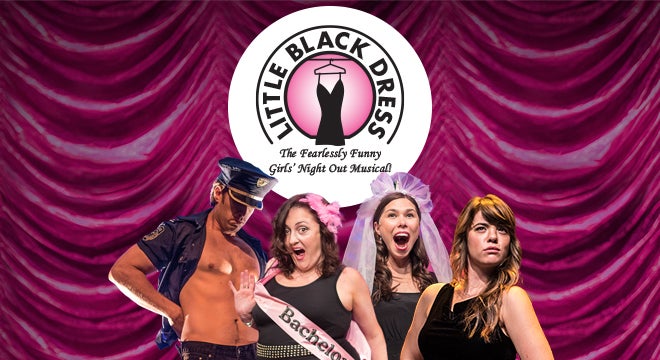 Buy Tickets
Nov

7 - 10

, 2019

City Theatre

$43.50 General Admission

Tickets can be purchased at the Little Caesars Arena XFINITY box office and Ticketmaster.com.

---

Group Tickets

Discounts available for groups of 8 or more. Our Ticket Sales Executives are available Monday - Friday from 9 a.m. - 5:30 p.m. For more information on group sales, call 313.471.3099, email
[email protected] or
CLICK HERE to complete our interest form.
Seating Chart
Little Black Dress
Nov
7 - 10
, 2019
City Theatre
Little Black Dress, the fearlessly funny ladies' night out musical makes for one wild and unforgettable evening with its hilarious show-stopping musical numbers, "Magic Mike" influenced dancing and loads of improvised audience mayhem! The musical will play at the City Theatre in The District Detroit for five performances from Thursday, November 7 through Sunday, November 10.
After being on tour for close to three years together with the wildly successful Spank! The Fifty Shades of Grey Parody, writers Danielle Trzcinski and Amanda Barker saw an audience they never knew existed. Thousands of women who wanted to go to the theatre not just to see a show, but to have an experience where they could laugh, party and let loose... oh, and see some stripping from a very sexy man. So, they grabbed a couple of their super talented friends – award winning director Christopher Bond and Broadway vocal arranger and composer Natalie Tenenbaum – and together wrote the story of Dee and her best friend Mandy. Together we witness the girls' major life events in their little black dresses – first job interview, first date, first awkward sexual experience – which happens more than once – first funeral, and more! Using hilarious improv, catchy songs and a heartfelt story, Little Black Dress has made audiences across the globe laugh, cry and party!
After readings at the Dramatists Guild and the highly prestigious BMI workshop in New York City, they finally brought Little Black Dress to the Candy Box Theatre at the Second City in Toronto and were blown away by the audience's overwhelming response. People LOVED IT!
Danielle Trzcinski (SPANK! The Fifty Shades Parody!), Amanda Barker (Sirius XM's Canada Laughs), Natalie Tenenbaum (Tony Nominated Mean Girls Broadway) and Christopher Bond (DISENCHANTED, Evil Dead The Musical!) bring you the perfect show for every bachelorette party, birthday or date night. Even the fellas can't help but enjoy Little Black Dress!
REVIEWS:
"LOVED EVERY MINUTE!"
- SiriusXM
"LITTLE BLACK DRESS" PROMISES TO BE DELIGHTFULLY HILARIOUS!"
- Broadway World
"WRITING IS SHARP AND PERFORMANCE IS BRILLIANTLY EXECUTED."
- The Torontoist
"I LOVED IT AND I WASN'T EVEN DRUNK!"
- Nicole
Group Sales
Bring a group to one of our amazing events and save big! For more group sales information, please CLICK HERE.
If you are interested in bringing a group to an upcoming event, please CLICK HERE to fill out our interest form and a Group Sales Executive will contact you within 48 hours. If you would like to speak with an executive, please call 313-471-3099.