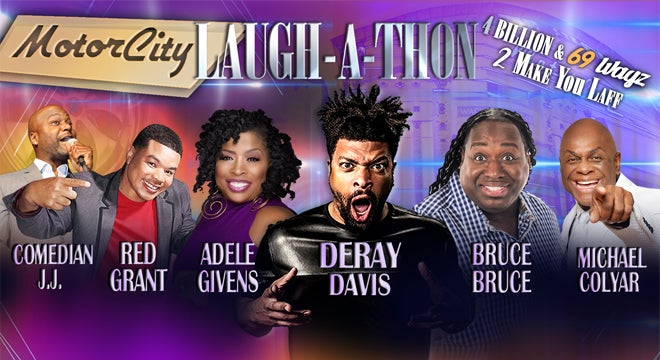 Motor City Laugh-A-Thon
Featuring DeRay Davis, Bruce Bruce, Adele Givens, Red Grant, Comedian J.J., Michael Colyar
Motor City Laugh-A-Thon
Featuring DeRay Davis, Bruce Bruce, Adele Givens, Red Grant, Comedian J.J., Michael Colyar
Event Details
Motor City Laugh-A-Thon featuring DeRay Davis with Bruce Bruce, Adele Givens, Michael Colyar, Red Grant and J.J Williamson will provide a night of laughs at the Fox Theatre in The District Detroit on Saturday, April 6 at 7:30 p.m.
Born and raised on the south side of Chicago, comedian-turned-actor DeRay Davis can most recently be seen starring opposite Taraji P. Henson's "Cookie Lyons" as her go-to hitman/cousin "Jermel" in seasons one and two of Empire on FOX. His highly anticipated first ever Netflix special DeRay Davis: How to Act Black smashed the cultural landscape on November 14, 2017 and was so popular it shut down the Netflix server twice. He can currently be seen on the FX hit, Snowfall. From the Hood to Hollywood – nothing is off limits, and no one is safe from Davis' hilarious, sidesplitting anecdotes. He continues to sell out venues both domestically and internationally. Davis transformed his torridly rough upbringing, status as a working actor and fatherhood into a live show that stays fresh and ever changing according to whatever is happening in his daily life while he continues to develop and hone his streetwise mentality smoothly and efficiently onto the comedy-club circuit. For more information, visit www.deraydavis.com and follow on Twitter at @DeRayDavis.
Bruce Bruce is a name synonymous with keeping audiences rolling with laughter thanks to his captivating improv skills and larger than life comedic style. Bruce's steady style of comedy has been showcased across the country, and he has been entertaining audiences young and old, and of all backgrounds, for years. His wit, spontaneity and dazzling personality set him apart from other standup comedians. Although Bruce is known for his adult comedy, he prides himself on not using vulgarity to win a laugh, and is no stranger is winning over new audiences with every appearance he makes. For more information, visit www.bruce-bruce.com and follow on Twitter at @mybrucebruce.
On February 3, 1990, Adele Givens made her professional stand-up debut at the Regal Theater in Chicago. Almost immediately her peers dubbed comedian Adele Givens the Queen of comedy. The name stuck and it's no wonder with such credits as Russell Simmons' Def Comedy Jam, The All-Stars of Def Comedy Jam, The Bad Girls of Def Comedy Jam and The Oprah Winfrey Show. As an actress, she has appeared in sitcoms Martin, Moesha, The Steve Harvey Show, The Parkers, The Tracy Ullman Show and The Hughley's. Givens also branched out to do her very own morning radio show, The Howard MaGee and comedian Adele Givens Morning Show, on WGCI in Chicago. Her first movie role was as Tricks in The Player's Club. Before long HBO recognized her majesty by offering her a chance to do her own HBO half-hour comedy special and television pilot, The Adele Givens Show. Follow her Twitter at @REALAdeleGivens.
Michael Colyar is a multi-talented actor, comedian and author. His wit, charm and unique sense of style has been captivating audiences since the 80's. Colyar consistently performed every weekend, five shows a day on Venice Beach and was rightfully dubbed the "King of Venice Beach" while performing nine years straight. His philanthropic legacy extends beyond his $100K win from Star Search of which he gave 50% to the homeless. Today, Colyar still finds the time to share laughter with those in need in shelters, rehabilitation centers, schools and military bases. He is best known for his starring roles in Blackish, House Party III, Norbit, The Princess & The Frog, and his role as Mr. Whitaker on the hit television series Martin. He is currently performing his one man play called Michael Colyar's Momma's. For more information, visit therealmichaelcolyar.com and follow on Twitter at @MichaelColyar.
Red Grant is an American comedian, actor, writer and producer. Known for his infectious laugh and his unrelenting work ethic, Grant spends a solid 48 weeks a year on the road doing standup. He began his career in 1996 performing at New York's Apollo Theatre. He's since gone on to star in such films as American Hustle and First Sunday alongside contemporaries as Katt Williams, Ice Cube and Tracy Morgan. Grant has written for such shows as Snoop Dogg's Dogg After Dark and Comedy Central's Roast of Flavor Flav, and he's graced the small screen in his own hour-long Showtime special Caught Red Handed and Comedy Central Presents' half-hour special Red Grant. In 2000, he wrote and produced his first film, Family Reunion. As an avid golfer and humanitarian, Grant takes pride in giving back to the community, which he does with his annual charity golf tournament "Golf Beef." For more information, visit www.redgrant.com and follow on Twitter at @redgrantlaughs.
Hard work and enthusiasm have catapulted J.J. Williamson into a very successful career in the entertainment industry. J.J.'s devotion to his art has indeed been rewarding. He has worked with comedy giants such as Chris Tucker, D.L. Hughley, Rickey Smiley and Bruce Bruce. He has electrified stages across the country with Cedric "The Entertainer" during summer tours and graced the stages and entertained thousands at numerous popular venues such as the Los Angeles Improv, Miami Improv, the Chicago House of Blues, Caroline's of New York, the Comedy Store of Los Angeles, the Universal Amphitheater of Los Angeles and the Palace Theaters in Cleveland and Columbus, Ohio and many more. For more information, visit www.iamjjfromthesipp.com and follow on Twitter at @JJfromtheSIPP. *Lineup subject to change*