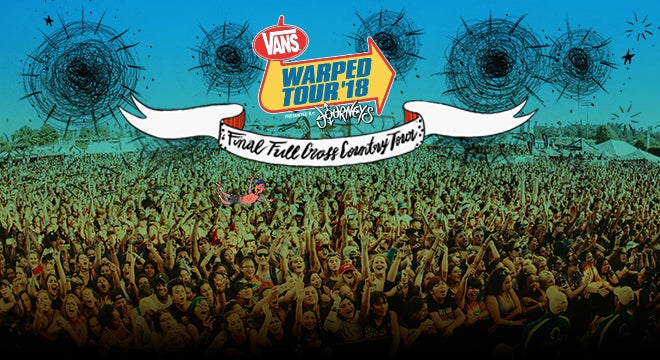 Vans Warped Tour - SOLD OUT
Vans Warped Tour - SOLD OUT
Event Details
The entire lineup for 2018's Vans Warped Tour, presented by Journeys, has been revealed via a special announcement video, which can be viewed now at VansWarpedTour.com. Additional special guests are still to be announced. The tour will make its debut at Meadow Brook Amphitheatre on the campus of Oakland University on Friday, July 20 at 11 a.m.
Due to major road construction on Walton Boulevard near the main entrance of Meadow Brook Amphitheatre and at the intersection of Adams Road and Hamlin, guests attending Vans Warped Tour on Friday, July 20 are strongly advised to arrive early and will be directed to park in the Adams Lot located at 288 S. Adams Rd., Rochester Hills, MI 48309, or in lots P35 and P37 located on the campus of Oakland University at 253 Pioneer Drive, Rochester, MI 48309. To view a map, CLICK HERE.
Guests parking in lots P35 and P37 will be provided shuttle bus transportation to the amphitheatre. Parking attendants and police will be stationed along the route to provide additional directional guidance. Shuttle buses will run from 8 a.m. until 10 p.m., picking up and dropping off patrons within the two designated surface lots. CLICK HERE for more information.
It was previously shared that this would be the final cross-country run for the tour, now in its 24th year. On the upcoming shows, founder Kevin Lyman has shared: "I truly am happy to get the chance to travel around the country one more time to thank you for your support, and bring you another best day ever."
For its final run, the tour is thrilled to welcome back countless bands who have rocked Vans Warped Tour over the last 24 years including Reel Big Fish, Simple Plan, Four Year Strong, 3OH!3, Less Than Jake, We The Kings, Tonight Alive and more. Adding to this year's lineup are up-and-coming acts such as State Champs, Trash Boat, Don Broco, Grayscale, Waterparks, Real Friends, and Movements.
Also returning this summer are the newly named Mutant Red Dawn and Mutant White Lightning stages, showcasing the best in heavy and hardcore music: Chelsea Grin, MY CHILDREN MY BRIDE, Every Time I Die, The Amity Affliction, Ice Nine Kills, etc.
The Vans Warped Tour is the largest traveling music festival in the United States, and the longest-running touring music festival in North America. Originally conceived by founder Kevin Lyman in 1995 as an eclectic alternative rock festival, with a focus on punk rock, over the years the tour has grown to include a multitude of genres, including metal, hip hop, reggae, pop and more. It remains one of the best tours to attend to discover emerging acts, to learn more about wonderful non-profits and companies who are working to make a positive impact on the world that surround them, and to meet like-minded friends.
Over the past two decades, Vans Warped Tour has built a legacy as the must attend summer festival for rock and music lovers alike. Since its start in 1995 it has provided a platform for established as well as up-and-coming artists, with past performers including blink182, No Doubt, Sublime, Beck, Katy Perry, NOFX, Limp Bizkit, Black Eyed Peas, Green Day, Eminem, Yellowcard, Bad Religion, and countless others.
In addition, the tour continues to host a wide array of amazing non-profits and educational workshops for attendees and 2018 will be launching the FEND Movement (Full Energy, No Drugs) in partnership with the Preventum Initiative. The FEND Movement empowers youth to make a stand against opioids. The FEND Movement aims to engage 50,000 young people between March and August 2018, giving them the chance to earn rewards and prizes as they increase their knowledge and change their attitudes and behaviors in relation to opioids. Youth can participate by downloading the Preventum app and on-boarding to the FEND campaign.
A Voice For The Innocent, American Red Cross, Hope For The Day, Feed Our Children Now!, Living The Dream Foundation, To Write Love on Her Arms, and truth will all be involved this summer, just to name a few. Fans can see their favorite bands as well as become educated on these causes and how they can help.
"I am very excited about the upcoming year. With it being the last tour, the non-profit presence will be as big as ever. Groups who have been out in the past will be coming out in more markets, and hopefully we will attract new non-profits," comments Sierra Lyman. "With more non-profits coming out there will be more options for our audience to hopefully get involved before, during, and after the tour. I am hoping that this last year encourages non-profits to partner with bands and for bands to partner with non-profits on their own events and tours once this summer is over."
The Entertainment Institute will return to the 2018 tour as well, hosting educational workshops and Q+A's hosted by the industry's most successful writers, artists, and photographers. More information regarding the artists conducting workshops will be available in April at http://www.thinktei.com
Also joining the tour this year as sponsors are dailyKARMA, Ernie Ball, Equal Vision Records, Full Sail University, Peta2, MusiCares, PRS Guitars, Hopeless Records, Viceland, Violent Gentlemen, Hope For The Day, and more.
"Kevin and the tour have touched so many lives through their commitment to giving back to the community," shares dailyKARMA CEO Patricia Dao. "They've been doing it long before it was the cool thing to do. Our team is thrilled that dailyKARMA will be powering Warped Tour's online fundraising efforts this year."
The 38-date tour will commence June 21st in Pomona, CA and end on August 5th in West Palm, FL.
2018 Vans Warped Tour Line Up for Meadow Brook Amphitheatre on July 20:
Journeys Left Foot Stage
3OH!3
Beartooth
Bowling For Soup
Knuckle Puck
Mayday Parade
Reel Big Fish
State Champs
This Wild Life
Waterparks

Journeys Right Foot Stage
Four Year Strong
ISSUES
Less Than Jake
Movements
Real Friends
Simple Plan
The Maine
Tonight Alive
We The Kings

Mutant Red Dawn Stage
Chelsea Grin
Deez Nuts
Ice Nine Kills
Kublai Kahn
MYCHILDREN MYBRIDE
Sharptooth
Silverstein
The Amity Affliction
Twiztid
Wage War

Mutant White Lightning Stage
Crown The Empire
Dayseeker
Every Time I Die
Hail The Sun
Harm's Way
In Hearts Wake
Motionless In White
Nekrogoblikon
Unearth


Owly.fm Stage
As It Is
Assuming We Survive
Broadside
Capstan
Chase Atlantic
Doll Skin
Don Broco
Grayscale
Makeout
Palaye Royale
Sleep On It
Story Untold
Trash Boat
With Confidence
Full Sail Stage
Farewell Winters
Lighterburns












Learn more about the Vans Warped Tour:
www.vanswarpedtour.com
Follow the Vans Warped Tour:
www.facebook.com/warpedtour
www.twitter.com/vanswarpedtour
www.instagram.com/vanswarpedtour