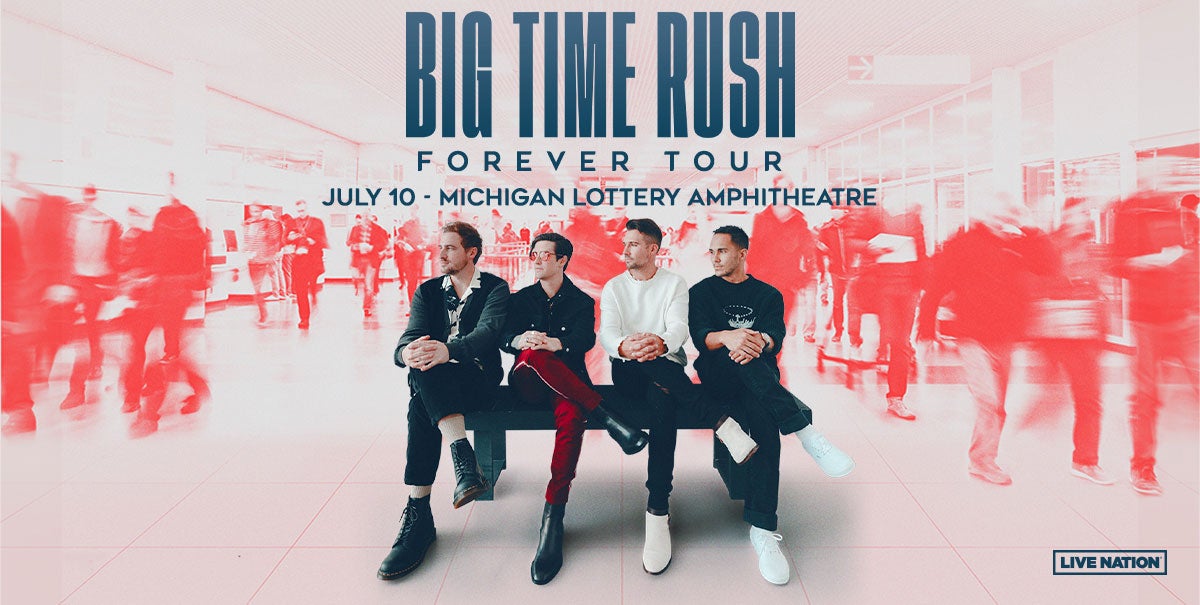 Big Time Rush Announces "Forever Tour" Performance At Michigan Lottery Amphitheatre July 10
(DETROIT – February 21, 2022) – Today, beloved pop super-group Big Time Rush has announced their forthcoming "Forever Tour." Produced by Live Nation, the 41-show tour will make a stop at Michigan Lottery Amphitheatre on Sunday, July 10 at 8 p.m. Joining Big Time Rush on the road for the local performance is special guest, recording artist, social media phenom and Big Time Rush super-fan, Dixie D'Amelio.
Tickets (starting at $25.15 on the lawn) go on sale Friday, February 25 at 11 a.m. To purchase tickets in the Crest Ford pavilion, Ford Motor Company luxury seats and on the lawn, visit 313Presents.com, LiveNation.com, Ticketmaster.com and the XFINITY Box Office at Little Caesars Arena. For more information please visit BigTimeRushOfficial.com.
Citi is the official card of the "Forever Tour." Citi cardmembers will have access to presale tickets beginning Wednesday, February 23 at 12 p.m. local time until Thursday, February 24 at 10 p.m. local time through the Citi Entertainment program. For complete presale details visit CitiEntertainment.com.
The top-selling hitmakers appeared on Good Morning America to make their highly anticipated tour announcement, including news that 3x Triller Billboard Chart Topper Dixie D'Amelio will join them on tour as a special guest. "Forever Tour" is Big Time Rush's first official tour since reuniting and will bring the pop-culture icons to Madison Square Garden for their first ever headlining show at the famed building. Always most at home in NYC, the band promises an epic hometown show of sorts for the June 30th event.
After exclusively revealing their nationwide tour plans, the group then took to the GMA stage for the world premiere and debut performance of their upcoming single "Not Giving You Up." The song is officially due out this Friday, February 25th and can be pre-saved here. The song will be accompanied by a music video that sees the band jumping into a career as relationship specialists. The comedic masterpiece is directed by Erik Rojas and will premiere exclusively on RollingStone.com at 7am PST. It has been 8 years since the band was last together in official capacity, with this latest run marking the new era of Big Time Rush.
"Not only are we excited to be sharing new music with you this week, but we've been holding onto this secret for over two years and now it's official!" said the band. "We are going back on tour! We can't thank you enough for all of your love and support over all these years and we can't wait to see you at the "FOREVER♾TOUR"
The news follows a whirlwind 2021 for the band, where all four original band members, Kendall Schmidt, James Maslow, Logan Henderson and Carlos PenaVega, officially reunited for the release of their first new music in eight years – Their single "Call It Like I See It". The band debuted the song with a performance at iHeartRadio Jingle Ball in Philadelphia, followed by Jingle Ball Atlanta, and then went on to play two special live shows in Chicago and NYC, which sold-out in a matter of minutes, blowing expectations out of the water and showcasing the power of the band's devoted fandom.
About Big Time Rush
Big Time Rush became an overnight sensation in November 2009 when the scripted TV show of the same name launched on Nickelodeon. The show focused on the Hollywood adventures of four hockey players from Minnesota after they were selected to form a boy band. The show a huge success and later, Carlos, Kendall, James, and Logan came to life as a band off the screen releasing three full length albums and performing across the globe. As the show concluded in July 2013 and after four years of recording music and touring as a band, they went their separate ways but remained close friends through the years.
After 7 years, in an effort to bring joy to their fans during quarantine around the world, the members of Big Time Rush decided to appear together as a group to send a message of love and togetherness. This was soon followed by a socially distant performance of an acoustic version of their smash hit, "Worldwide". These appearances resulted in hysteria amongst their fans and in the media, followed by BTR receiving 10+ million streams in 2020 alone. Four seasons of the TV show were added last to Netflix in March 2021 and have appeared in the Netflix "Top 10" trending titles. The band finished off 2021 with a performance at iHeartRadio Jingle Ball in Philadelphia as well as 2 sold out shows in Chicago and NYC, capping it off with the release of their first single in 8 years, "Call It Like I See It", on Dec. 13th. Stay tuned for big things to come because Big Time Rush is back.