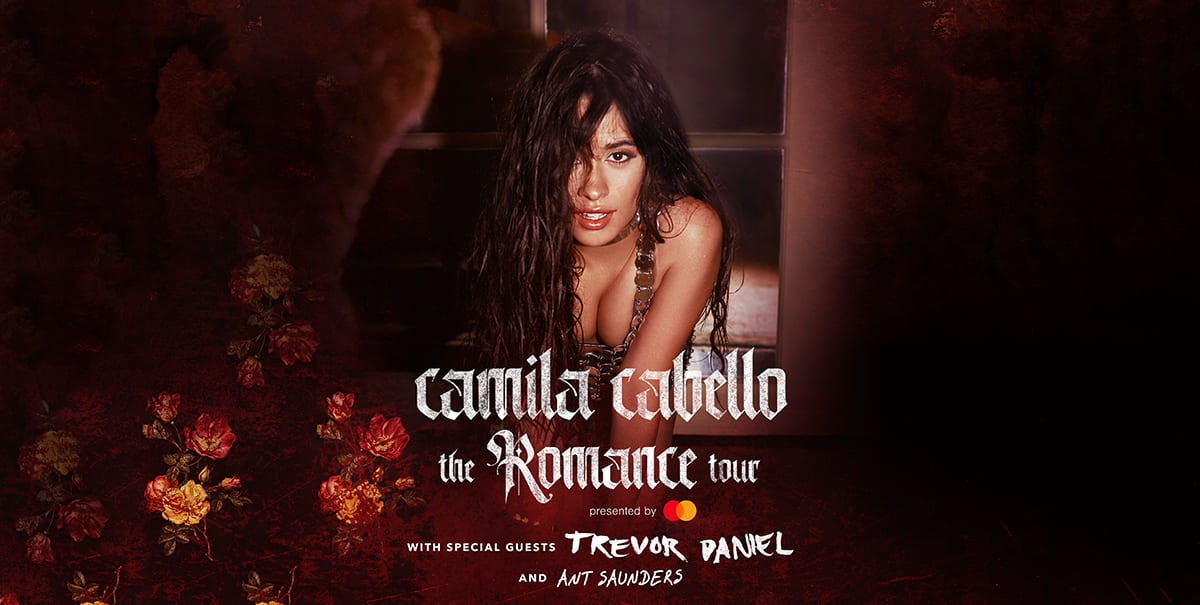 CAMILA CABELLO ANOUNCES SPECIAL GUESTS TO JOIN "THE ROMANCE TOUR" PRESENTED BY MASTERCARD AT LITTLE CAESARS ARENA SATURDAY, SEPTEMBER 5
(DETROIT – March 10, 2020) — Three-time Grammy® Award-nominated, multi-platinum and chart-topping singer/songwriter Camila Cabello has announced that special guests Trevor Daniel and Ant Saunders will join her during "The Romance Tour," presented by Mastercard, at Little Caesars Arena in The District Detroit on Saturday, September 5 at 7 p.m. Promoted by Messina Touring Group, this marks Camila's first ever headlining arena tour.
Tickets are on sale now and can be purchased at 313Presents.com, Little Caesars Arena XFINITY box office and Ticketmaster.com. Camila is also adding a special Q&A experience to her Señorita and the Havana VIP packages. She is incredibly excited to be able to talk to her fans in an intimate setting. For more information, please visit http://www.camilacabello.com/.
Watch her performance of "My Oh My" from The Global Awards from last week here.
About Camila Cabello
Multi-Grammy® nominated Cuban born singer/songwriter Camila Cabello (Epic Records / SYCO) released her debut solo album, Camila in January 2018 to rave reviews. It debuted at #1 on the Billboard 200 chart at the same time as her single "Havana" Reached #1 on the Billboard Hot 100 chart, making Camila the first solo artist in nearly 15 years to reach the #1 spot on the Hot 100, Billboard 200 and Artist 100 charts in the same week. The RIAA platinum-certified album, Camila, launched its debut at #1 on 110 iTunes charts around the world, breaking the record for most #1 positions for a debut album in iTunes history. Camila also became the #1 artist on global Spotify. She took home awards for Artist of the Year and Video of the Year for her hit "Havana" at the 2018 Video Music Awards. At the end of 2018, Camila was nominated for two Grammy® awards, "Best Pop Vocal Album" for her album, Camila, and "Best Pop Solo Performance" for "Havana" (Live). Beginning her official solo career after four years in Fifth Harmony, Camila released her RIAA 9x platinum smash hit "Havana," in August 2017 where it obtained the #1 spot on the pop radio chart, marking her second top 40 #1 as a solo artist. Furthermore, "Havana" hit #1 on iTunes overall top songs chart, #2 on the Spotify Global chart and hit #1 in 80 countries around the world. "Havana" is the first song by a female artist to reach #1 on Billboard's Adult Contemporary, Pop Songs and Rhythmic Songs charts in 22 years, it has earned over 1.1 billion on-demand U.S. streams, according to Nielsen Music, and attained the longest run at #1 on Pop Songs for any song by a female artist since 2013. "Havana" became the most streamed song of all time by a female artist and was the number one song of 2018 globally. Her triple-platinum single "Never Be The Same," was released in January 2018 and peaked in the top 10 of the Billboard Hot 100 chart. Camila became the first artist in history to have two multi-format number one singles as the first two singles from their debut album. Camila had previously earned a chart-topping smash with her double platinum-certified hit "Bad Things" with MGK. The track generated over 400 million on-demand streams. As a result of its success, she became the fifth female artist to hit #1 on the Pop songs chart with and without a group. Camila released the global smash single "Señorita," with Shawn Mendes in June 2019, which debuted at #1 on iTunes worldwide and broke Spotify's record for the biggest debut from a male/female duet in its history, it is currently the most streamed song of any song released on Spotify this year globally. "Señorita" marks Camila's second #1 at Hot 100 and fourth #1 at Pop Radio. Camila is currently the most listened to female artist in the world on Spotify and broke the record for the most monthly listeners for a female artist in Spotify history. She is the first female artist since Adele to triple up atop Billboard's Hot 100, Billboard 200 & Artist 100 charts. In November 2018, Camila was named the new ambassador for Save the Children. She is set to make her acting debut starring in Sony Pictures' Cinderella, to be released February 5, 2021. The film will be directed by Kay Cannon and produced by James Corden and Leo Pearlman.
About Trevor Daniel
An outsider might perceive Trevor Daniel's rise as an overnight catapult of stratospheric proportions, but the Houston, TX singer has been quietly carving a career in music since his teens. Learning to produce beats in his bedroom, bridging the worlds electro-R&B and balladic pop, Daniel created his own wave to ride to the top. He hit a stride with breakout single "Falling" — off his debut EP, Homesick (2018) — which got a second wave on sharing platform Tik Tok which catapulted the song to #1 position on the U.S. Viral 50, entering Top 20 in over 40 countries and peaking at #25 on the Billboard Hot 100. Not one to rest on his laurels, Trevor, who Billboard named their "Chartbreaker Artist" of January this year, went to work on a debut album immediately, the result? A ten track, tightly produced major label debut that is bound to capture the sound of a generation; Nicotine. The album, released this Spring, will showcase Trevor's magic with cross genre melodies and anthemic songwriting. The new music will kick off Trevor's all new tour dates which includes headlining shows and festival dates Firefly Festival (U.S.), Reading and Leeds Festivals in the U.K.
About Ant Saunders
In the summer of 2019, Ant Saunders released "Yellow Hearts" on the day of his high school graduation, a song he wrote and recorded in his bedroom. After posting on TikTok a few months later, "Yellow Hearts" caught on like wildfire and now sits at over 250 million global streams. The track is now certified gold in the U.S. and landed on the Billboard Hot 100. This summer, a now 19-year-old Ant Saunders will make his major festival performance debut at Lollapalooza. Ant began writing and recording in middle school using Audacity and a USB mic as an outlet to understand his emotions and the world around him. Influenced by R&B and hip-hop acts like Frank Ocean, Daniel Caesar, Tyler the Creator, as well as singer-songwriters like Ed Sheeran, John Legend, and John Mayer, Ant's combination of lyrical storytelling and velvet vocal delivery makes for a uniquely flagrant and refreshing sound. Ant was born in Germany, where his parents were stationed in the military before eventually settling in the small town of Woodbury Heights, New Jersey. He will release new music throughout 2020, including an EP this spring.