DAVID FOSTER BRINGS "HITMAN TOUR" WITH SPECIAL GUEST KATHARINE MCPHEE TO THE FOX THEATRE FRIDAY, MAY 8, 2020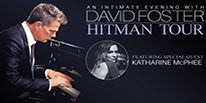 (DETROIT – September 16, 2019) - David Foster brings his "Hitman Tour" with special guest Katharine McPhee to the Fox Theatre in The District Detroit on Friday, May 8, 2020 at 8 p.m.
Tickets (starting at $25) go on sale Friday, September 20 at 10 a.m. and can be purchased at 313Presents.com, Little Caesars Arena XFINITY box office and Ticketmaster.com.
Few other individuals can claim to have their fingerprints on more major moments in all of popular music than David Foster. He has created hit songs and award-winning albums for Barbra Streisand, Celine Dion, Whitney Houston, Michael Jackson, Madonna, Andrea Bocelli, Michael Bublé, Josh Groban, Rod Stewart, Stevie Wonder, Earth, Wind & Fire, Diana Krall, Natalie Cole, Michael Bolton, Seal, Chaka Khan, Kenny Rogers, Dolly Parton, Chicago, Hall & Oates, Brandy, 'NSync, Boz Scaggs and Gloria Estefan. He has created culture-defining soundtracks for blockbuster films and crafted timeless holiday classics and played a key role in career launches of Dion, Groban and Bublé.
In this intimate evening, accompanied by hand-picked vocalists and musicians, Foster will explore the music of his career as one of the biggest creative forces of our time.
Renowned for her powerhouse presence and show-stopping performances, Katharine McPhee possesses a voice for the ages. Audiences first fell under the chanteuse's spell during a storied run on American Idol Season 5 in 2006. Since then her hits have included "Over It," "Unbroken" and "Christmas is the Time To Say I Love You." McPhee also became a force on the big and small screens, co-starring with Debra Messing on Smash from executive producer Steven Spielberg as well as guest appearances on CSI: NY, Community, Family Guy, and more. Meanwhile, she has taken stage for PBS specials -- including her own special – Soundstage: Katharine McPhee, and Foster and Friends.
May
08
/ 2020
@ 8:00 PM
May
08
/ 2020
@ 8:00 PM