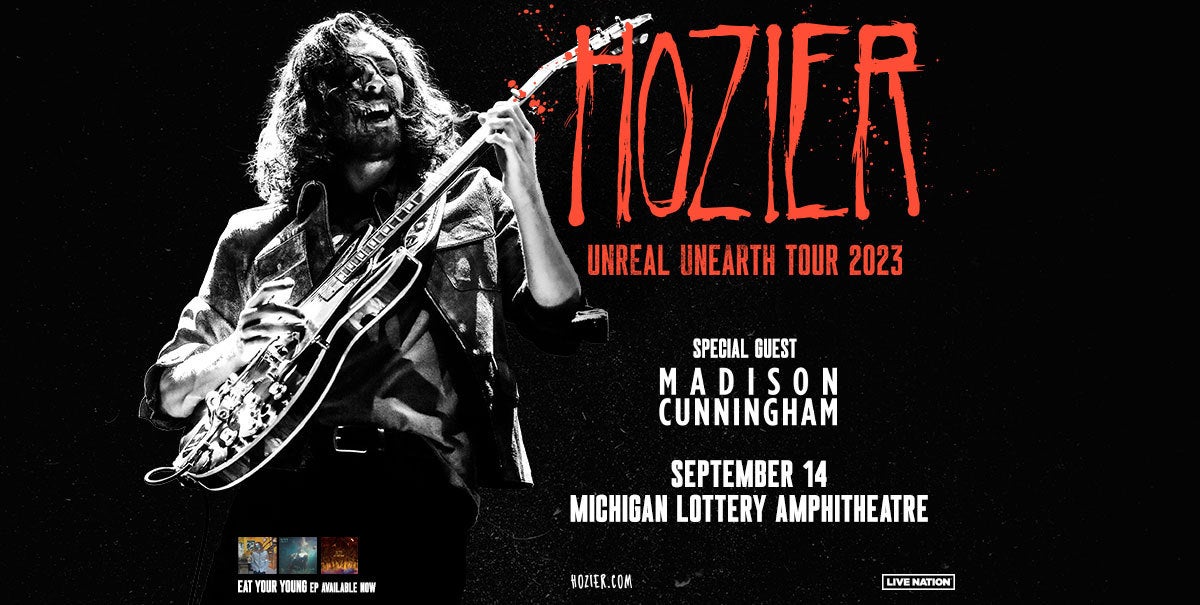 Hozier Announces North American Headline Tour Slated For Michigan Lottery Amphitheatre September 14
Tickets Go On Sale Friday, March 24 at 12 p.m.
(DETROIT – March 17, 2023) – To commemorate his birthday, award-winning multi-Platinum singer/songwriter Hozier has announced a new EP Eat Your Young and a new tour "Unreal Unearth" slated for the fall. Madison Cunningham will join as special guest across all shows. Produced by Live Nation and spanning 25 cities, the North American leg includes a stop at Michigan Lottery Amphitheatre on Thursday, September 14 at 8 p.m.
Tickets go on sale Friday, March 24 at 12 p.m. To purchase tickets in the Crest Ford pavilion, Ford Motor Company luxury seats and on the lawn, visit 313Presents.com, LiveNation.com and Ticketmaster.com.
The three-song EP marks Hozier's first official offering of new music since his 2019 sophomore album Wasteland, Baby!, which debuted at No. 1 on the Billboard Top 200 Chart. Listen here. Featuring songs lifted from Hozier's forthcoming full-length album Unreal Unearth due later this year, Eat Your Young touches on the album's exploration of Dante's Inferno and reflects upon two of the nine circles of hell: gluttony and heresy.
In speaking about Eat Your Young, Hozier says: "This EP marks my first release of 2023, with a number of songs to drop over the coming months followed by the full album Unreal Unearth in late summer.
It's always a gift to be able to release new music into the world and an added joy to do so on a birthday. I'm thrilled to have announced tour dates for this fall and to share these songs, which offer a sample of more to come."
Earlier this week, Hozier stopped by the Columbia Records offices in New York to celebrate "Take Me To Church" becoming RIAA-certified Diamond. Ranked the 30th most listened to song on Spotify, "Take Me To Church" is the 103rd song to ever achieve the rare milestone of Diamond certification. Additionally, "Take Me To Church" is now the highest certified solo Alternative single in RIAA history (12x Platinum).
About Hozier
In September 2013, when Irish solo artist Andrew Hozier-Byrne released his debut single – a song called "Take Me To Church" – which he had mostly recorded in the attic of his parent's house in Wicklow (his father a blues musician, his mother an artist), little did he know about the hurricane-strength surge in public interest that the song would spark, carrying him to international stardom.
A full ten years and billions of streams later, Hozier still calls Wicklow home. While his music takes him all over the world, it is Ireland and its people and places, the weather and landscape; where a stream is still something that runs down at the bottom of the garden, that calls him back to where he feels he naturally belongs.
The last decade has brought both public and critical acclaim. Multi-Platinum album sales, an RIAA-certified Diamond single, number one records on both sides of the Atlantic, multiple awards including a Grammy®-nomination, film and video game soundtracks and countless sold-out live shows all over the world. But as Hozier prepares to release his third album – Unreal Unearth – his passion for his art is undimmed, and his curiosity about our world – and all that is good and bad about it – remains undiminished.