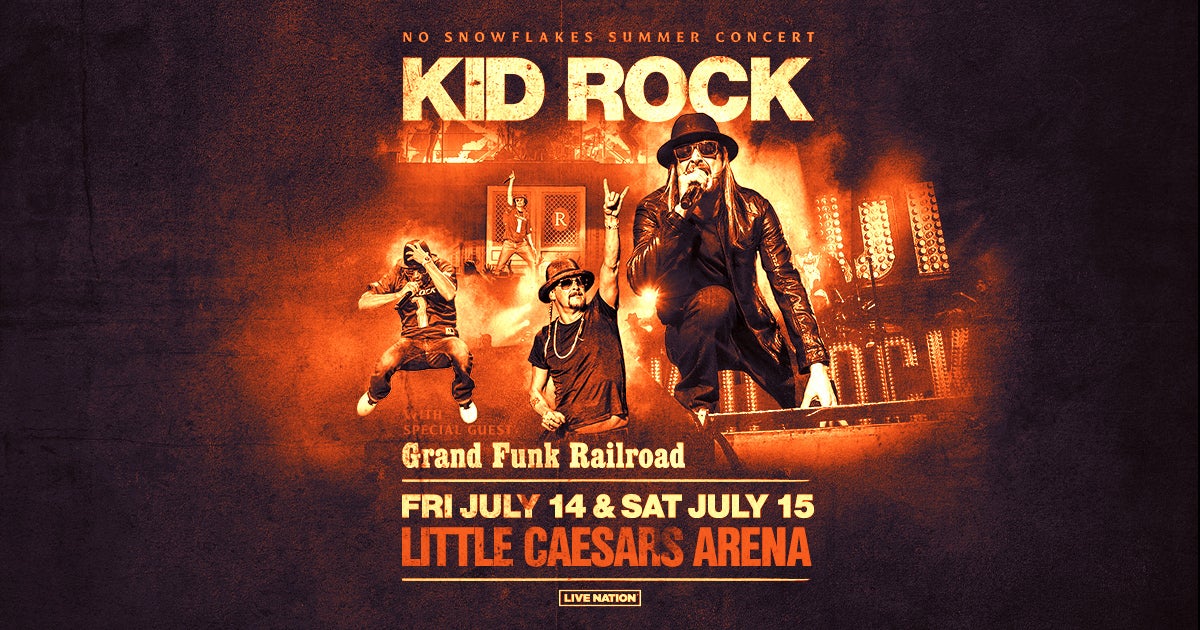 Kid Rock Adds Date To Detroit Stop Thanks To Fan Demand
Tickets For New Date Available Starting On Wednesday, March 8 with Artist Presale
Tickets Go On Sale To Public Friday, March 10 at 10 a.m.
(DETROIT – March 7, 2023) – On Monday, Kid Rock announced No Snowflakes summer concerts with a different special guest in each city. Today he has announced he will be adding a show in both Nashville and Detroit thanks to overwhelming fan demand.
Kid Rock will perform live at Moody Center in Austin, TX, on Friday, June 23 with Chris Janson; Dickies Arena in Fort Worth, TX, on June 24 with Marcus King; Bridgestone Arena in Nashville, TN with Travis Tritt on July 1 and a new date on July 8, and a hometown closeout at Little Caesars Arena in Detroit, MI with Grand Funk Railroad on July 14 and a new date on July 15.
Tickets go on sale Friday, March 10 at 10 a.m. at KidRock.com, 313Presents.com, LiveNation.com and Ticketmaster.com. Tickets for the newly added show will be available starting with artist presales beginning on Wednesday, March 8.
Kid Rock is a multi-platinum award-winning American rock 'n roll icon. His music has been characterized as a melting pot of musical genres; from rap-rock in the `90s with singles "Bawitdaba" and "Cowboy," to the multi-chart hit "Picture," a collaboration with Sheryl Crow, to the global smash hit, "All Summer Long," charted at No. 1 in eight countries across Europe and Australia. Rock has sold almost 30 million records worldwide and has earned a reputation as one of the hardest working acts in rock n' roll, blowing the roofs off arenas and stadiums on countless cross-country tours and treks around the globe. Kid Rock holds the Michigan record for most tickets sold with 150,000 for a run of ten consecutive sold-out shows, and set the Little Caesars Arena attendance record in his hometown of Detroit with 86,893 attendees in six sold-out shows. Kid Rock is also a passionate supporter of those who serve in the US Armed Forces, in addition to many other charitable causes through his Kid Rock Foundation. His newest album, Bad Reputation, was released through his own Top Dog Records label. The album features crowd favorites, "Don't Tell Me How To Live," "We The People," and "My Kind of Country," a song he co-wrote with Eric Church and Adam Hood.
No Snowflakes 2023 DATES
Fri Jun 23 – Austin, TX – Moody Center (with Chris Janson)
Sat Jun 24 – Ft. Worth, TX – Dickies Arena (with Marcus King)
Sat Jul 01 – Nashville, TN – Bridgestone Arena (with Travis Tritt)
Sat Jul 08 – Nashville, TN – Bridgestone Arena (with Travis Tritt)^
Fri Jul 14 – Detroit, MI – Little Caesars Arena (with Grand Funk Railroad)
Sat Jul 15 – Detroit, MI – Little Caesars Arena (with Grand Funk Railroad)^
^Newly Added Date