LAKE SUPERIOR STATE DEFEATS MICHIGAN TECH, 6-3, TO CLAIM GREAT LAKES INVITATIONAL CHAMPIONSHIP
Lake Superior State Forward Diego Cuglietta Named Tournament MVP
Dec 31, 2018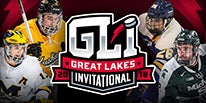 DETROIT (December 31, 2018) – Lake Superior State claimed their first MacInnes Cup with a 6-3 win over Michigan Tech on Monday in the Championship Game of the 54th annual Great Lakes Invitational in front of 12,117 college hockey fans at the award-winning Little Caesars Arena in The District Detroit. Earlier in the day, Michigan and Michigan State skated to a 2-2 tie in the Third Place Game.
The Lakers claimed their first GLI Championship in their fourth tournament appearance and became the third-straight GLI special invitee to win the MacInnes Cup (Bowling Green, 2018; Western Michigan, 2016). Senior forward Diego Cuglietta tallied a pair of goals in Monday's 6-3 victory en route to being named the Tournament MVP. Lake Superior State jumped out to a 2-0 lead in the first period, but the Huskies climbed back to make it a 2-2 game early in the middle frame. The Lakers went on to rattle off four of the next five goals to claim the MacInnes Cup in the all-Upper Peninsula and WCHA battle. Senior goaltender Nick Kossoff made 18 saves in the win to secure a place on the All-Tournament Team.
GREAT LAKES INVITATIONAL ALL-TOURNAMENT TEAM
G — Nick Kossoff, Lake Superior State
D — Collin Saccoman, Lake Superior State
D — Dennis Cesana, Michigan State
F — Jake Lucchini, Michigan Tech
F — Luke Morgan, Michigan
F — Diego Cuglietta, Lake Superior State*
* Also Tournament MVP
In a penalty-riddled affair that featured 22 combined infractions, the Spartans and Wolverines played to a 2-2 tie in the first game of the day. Michigan State freshman forward Wojciech Stachowiak tallied his third goal of the tournament to open the scoring with a power-play goal at 14:45 of the first period. The two teams exchanged goals late in the first period and the Spartans took a 2-1 lead into the first intermission, despite being outshot 23-7. The two teams skated to a scoreless second period before Michigan junior forward Nick Pastujov tallied his 10th goal of the season at 1:15 of the third period on the power play. Neither team could find the game winner in the third period or in overtime, as the game concluded as a 2-2 tie.
The most played rivalry in college hockey between Michigan and Michigan State continues at Little Caesars Arena when the two teams square off in the "Duel in the D" on Saturday, Feb. 9 with the Iron D trophy on the line. Tickets for the "Duel in the D" start at $25 and can be purchased at 313Presents.com, Ticketmaster.com and the Little Caesars Arena XFINITY box office. Tickets can also be purchased through The District Detroit App or by calling the Red Wings Ticket Sales and Service office at 313-471-7575.