MICHIGAN TECH AND BOWLING GREEN TO PLAY FOR GLI CHAMPIONSHIP ON TUESDAY AT LITTLE CAESARS ARENA
Michigan and Michigan State to Square Off in Third-Place Game on Tuesday at 2:30 p.m.; Tickets Available Starting at $20 Each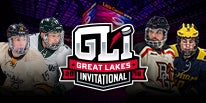 DETROIT (January 1, 2018) – Bowling Green will take on tournament-host Michigan Tech in the Championship game of the 53rd annual Great Lakes Invitational at 6 p.m. on Tuesday, Jan. 2 at Little Caesars Arena. The Michigan Wolverines and Michigan State Spartans will meet in the third-place game at 2:30 p.m. Both games will air live on FOX Sports Detroit.
Michigan Tech returns to the GLI Championship game for the third straight season and fifth time in the last six years after defeating Michigan State, 5-2, in the first game of the day. The Spartans took a 1-0 lead with 44 seconds remaining in the first period, but the Huskies stormed back early in the second, scoring on their first three shots of the period to claim a 3-1 lead 5:26 into the frame. After the Spartans cashed in on a late tally in the second period to make it a one-goal game, Huskies sophomore forward Gavin Gould lit the lamp to reopen a two-goal lead and sophomore forward Jake Jackson extended his point streak to nine games (5-6-11) with an empty-net goal to secure the Huskies a spot in the Championship game for the 26th time in the tournament's history.
Making their first appearance in the GLI since 1984 and third appearance overall, Bowling Green earned a spot in the Championship game by defeating Michigan, 6-4, in the second game of the day in front of a combined attendance of 14,127 fans at Little Caesars Arena. The Falcons jumped out to a 2-0 lead with a pair of goals 1:09 apart midway through the first period and extended their lead to 4-0 by 3:39 of the second frame before Michigan forward Jake Slaker tallied a pair of goals at 5:24 of the second and 4:55 of the third to make it a 4-2 game. Bowling Green forward Max Johnson reopened the three-goal lead with a power play tally, however the Wolverines battled back with two consecutive scores to make it a one-goal game with seven minutes remaining in regulation. Bowling Green sophomore forward Lukas Craggs tallied an empty net goal with 1:14 remaining, his second goal of the night, to put the game away and advance Bowling Green to the Championship game.
Tickets to see Tuesday's GLI championship and third-place game start at $18 and can be purchased at 313Presents.com, The Fox Theatre and Little Caesars Arena XFINITY Box Offices and Ticketmaster.com. To charge tickets by phone, call (800) 745-3000. For additional information, call (313) 471-6611.