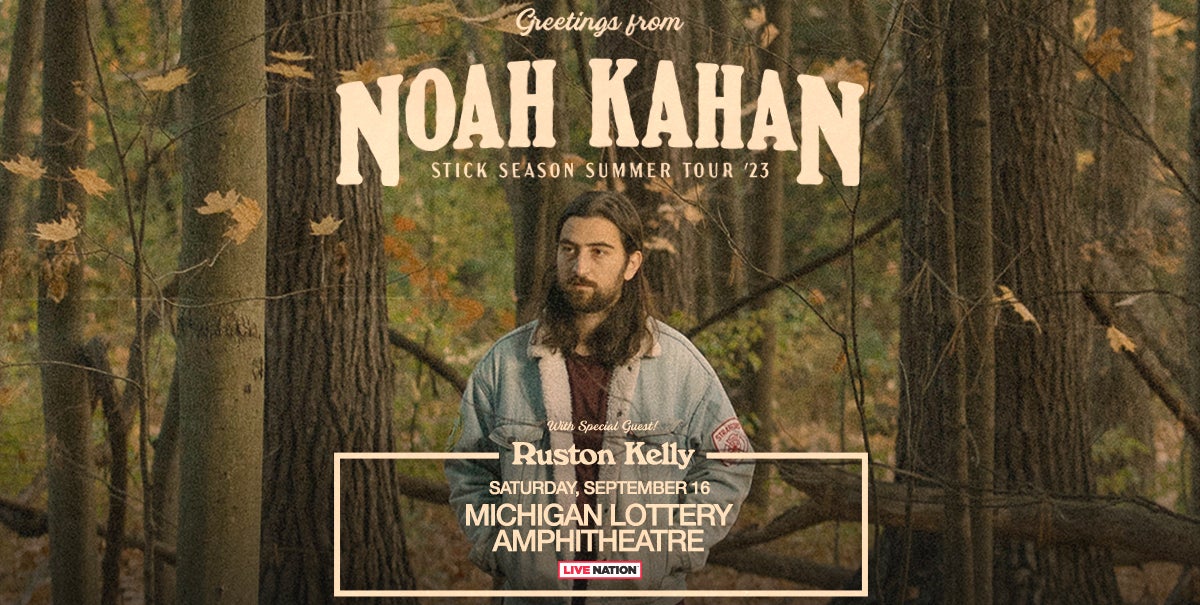 Noah Kahan Announces New Summer 2023 "Stick Season Tour" Includes Show At Michigan Lottery Amphitheatre September 16, 2023
Tickets Go On Sale Friday, December 16 at 10 a.m.
(DETROIT – December 7, 2022) – Today, critically acclaimed Vermont singer and songwriter Noah Kahan reveals new tour dates for summer 2023 as a continuation of his sold-out "Stick Season Tour" produced by Live Nation. The run includes a stop at Michigan Lottery Amphitheatre with special guest Ruston Kelly on Saturday, September 16, 2023 at 8 p.m.
Tickets (starting at $30.71 on the lawn) go on sale Friday, December 16 at 10 a.m. To purchase tickets in the Crest Ford pavilion, Ford Motor Company luxury seats and on the lawn, visit noahkahan.com/tour, 313Presents.com, LiveNation.com and Ticketmaster.com. Tickets will go on sale via pre-sale on December 14 at 10 a.m. local time.
In addition to recently wrapping up the 2022 leg of his tour, Noah delivered stand-out live performances of "Stick Season" on Jimmy Kimmel Live! and "Northern Attitude" on The Kelly Clarkson Show. He also released a live acoustic performance of the fan favorite track "Homesick," which was shot in his hometown of Strafford, VT—watch HERE.
Upon release, Stick Season debuted at #14 on the Billboard 200 Chart, #4 on Billboard's Top Alternative Albums Chart, #5 on Billboard's Top Rock Albums Chart, and #5 on Billboard's Top Rock & Alternative Albums Chart. Not to mention, it skyrocketed to #6 on Spotify's Weekly Top Albums USA Chart, and Noah had six songs from the album chart on Spotify's Viral 100 Chart—the most of any artist on the chart. The viral breakout title track also recently hit #1 on the AAA Radio Chart, Noah's first #1 at the format.
As Noah Kahan changes, he casts those experiences onto songs like light through a film projector. At the core of the music's upbeat energy and unfiltered lyrics, you'll hear who he was before and who he became—almost in real-time. The Vermont singer still pens songs straight from the heart and still cracks jokes with his signature, self-deprecating sense of humor; he's just changed in all of the right ways (and chronicled them via his songwriting). He gained that understanding through quite the journey from small town Vermont to global renown. He's racked up over one billion streams, released three full length albums (Busyhead, 2019; I Was / I Am, 2021; Stick Season, 2022) and a mid-pandemic EP (Cape Elizabeth, 2020), picked up a Gold Certification for "Hurt Somebody" feat. Julia Michaels, and performed on television shows such as Jimmy Kimmel Live!, The Late Show with Stephen Colbert, Late Night with Seth Meyers, TODAY, and The Kelly Clarkson Show. After 5 years of critical acclaim and global touring, he sought an even purer style of writing and arrangement inspired by his New England roots, a challenge from within to convey a vivid representation of what he loves, fears, and struggles with most passionately. The result is Noah's critically acclaimed new album Stick Season, which features his viral hit single "Stick Season" and has become his most successful release to date. Following the album release, Noah embarked on his sold-out "Stick Season Tour" across North America, which will continue into 2023.
Stay tuned for much more to come from Noah Kahan in 2023!