WORLD-RENOWNED GLOBAL ICON CELINE DION ANNOUNCES "COURAGE WORLD TOUR" TO INCLUDE LITTLE CAESARS ARENA NOVEMBER 5
Tickets Go On Sale Friday, April 12 at 10 a.m.
Apr 3, 2019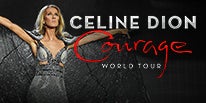 (DETROIT – April 3, 2019) — One of the most immediately recognized and widely respected superstars in pop music history, Celine Dion, announced today that she will be embarking on her "Courage World Tour," set to kick off in the fall of 2019. Produced by Concerts West/AEG Presents, the tour will make stops in over 50 cities including Little Caesars Arena in The District Detroit on Monday, November 5.
Tickets go on sale Friday, April 12 at 10 a.m. and can be purchased at 313Presents.com, Little Caesars Arena XFINITY box office and Ticketmaster.com. For tickets and information visit celinedion.com.
The multiple award-winning artist made the announcement to a packed house of fans during a special live event at the Theatre at the Ace Hotel in Los Angeles. Unveiling a short video chronicling the end of her iconic Las Vegas residency, Celine surprised the audience with the news of the "Courage World Tour," her first U.S. tour in over 10 years. Delighting her fans with a very special performance of songs from her chart-topping catalogue, Dion closed the event with an intimate Q&A with the audience. Watch the full event through a previously recorded Facebook Live here.
Celine says, "I'm so grateful to all the fans who have come to see my show in Las Vegas for so many years, and now I get the chance to create a brand new show and bring it to them in North America, and around the world. I'm very excited about this tour, and my new album...coming later this year."
Members of TeamCeline will have access to purchase tickets before the public through an advance pre-sale. American Express® Card Members can purchase tickets before the public beginning Monday, April 8 at 10 a.m. through Thursday, April 11 at 10p.m. local time.
"We've been thrilled to be working with Celine for these last sixteen years in Las Vegas, and we're even more delighted that for the first time in more than a decade, she will be bringing her show to her fans, all around the world, starting here in North America this September," said John Meglen President & Co-CEO of Concerts West. "Celine is a treasure, truly a voice for the ages."
Exclusive VIP packages will be available. All online ticket orders come with one CD copy of Celine's new English album, scheduled for release this fall.
About Celine Dion
Vocal powerhouse Celine Dion is one of the most immediately recognized, widely respected and successful performers in pop music history. She won numerous awards by the age of 18, dominated the pop charts in 1990s and has sold almost 250 million albums during her over 35-year career. She has earned five Grammy® Awards, two Academy Awards, seven American Music Awards, 20 Juno Awards (Canada) and an astonishing 40 Félix Awards (Quebec). She remains one of the most sought-after recording artists, receiving the Diamond award at the 2004 World Music Awards recognizing her status as the best-selling female artist of all time. In 2016 the Billboard Music Awards presented her with the lifetime achievement Icon Award. Celine continues to break records with her Las Vegas residency at The Colosseum at Caesars Palace which has played over 1,100 shows to more than 4.5 million fans. In June 2018, Celine took a two-month hiatus from her Las Vegas residency to head overseas for her sold-out tour "Celine Dion Live 2018," playing 22 shows across 12 cities in Asia, Australia and New Zealand. The tour was one of the highest-grossing of the year, grossing nearly $57 million for 260,000 fans. She also topped the US Dance Club charts in July 2018 with the remix of her single "Ashes" from the Deadpool 2 movie. In September 2018, Celine announced that her iconic Las Vegas residency will come to an end on June 8, 2019.
http://www.celinedion.com/
https://www.facebook.com/celinedion/
https://twitter.com/celinedion
https://www.instagram.com/celinedion
@CelineDion
#CourageWorldTour
www.aegpresents.com