Meadow Brook Amphitheatre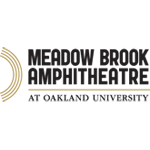 Meadow Brook Amphitheatre, located on the campus of Oakland University in Rochester, Michigan, opened in 1964 on property originally owned by automotive industry pioneer John F. Dodge and donated by his widow Matilda Dodge Wilson.
In its first four seasons, Meadow Brook was the exclusive summer residence of the Detroit Symphony Orchestra until the festival's schedule was broadened in 1968 to include ballet. By the early 1970s, rock and pop concerts were added to venue's summer lineup.
313 Presents recently assumed management, marketing and booking of the 7,700-capacity amphitheatre, as part of an operational and management agreement with Oakland University.
Meadow Brook's traditional and eclectic programming has flourished over the years and recently it has become a destination for music's biggest emerging stars. Today, concerts of all genres highlight and showcase the venue's unique ambiance and intimate setting.