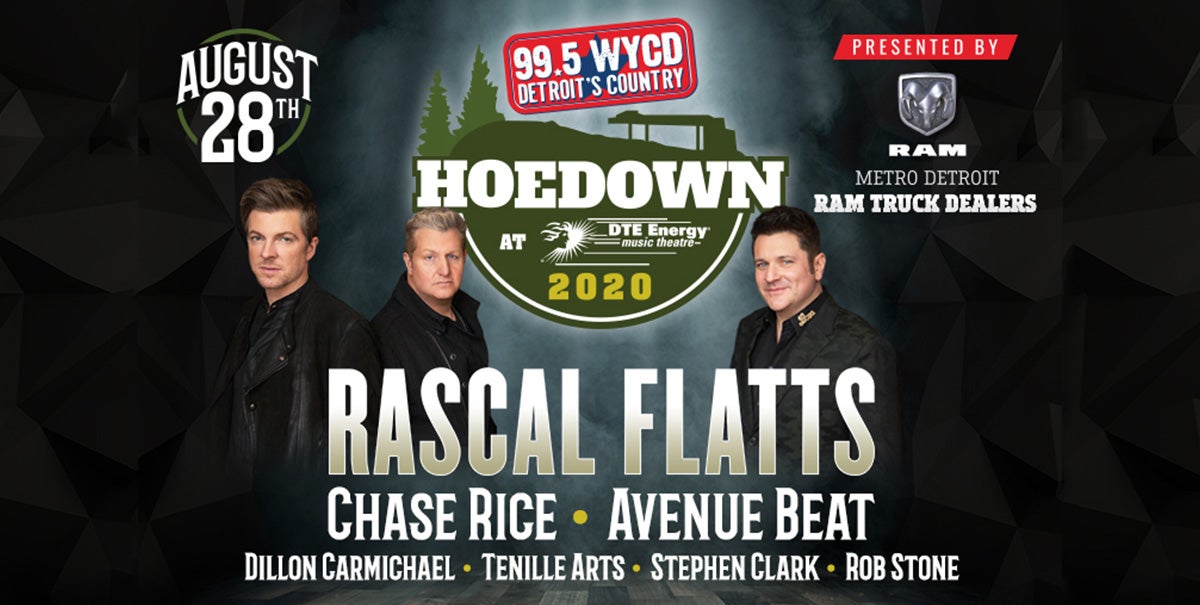 99.5 WYCD Hoedown featuring Rascal Flatts
99.5 WYCD Hoedown featuring Rascal Flatts
Event Details
The 38th annual "99.5 WYCD Hoedown" presented by Metro Detroit RAM Truck Dealers scheduled for Friday, June 12 at DTE Energy Music Theatre has been rescheduled to take place on Friday, August 28 at 3 p.m. The event will feature a headlining performance by Rascal Flatts and main stage performances from Chase Rice and Avenue Beat.
All previously purchased tickets will be honored for the newly scheduled date. For any further ticket inquiries please reach out to point of purchase.
The "99.5 WYCD Hoedown" will also include performances on the Festival Stage in the DTE parking lot by Dillon Carmichael, Tenille Arts, Stephen Clark and Rob Stone.
For more information on the "99.5 WYCD Hoedown," please visit wycd.com/hoedown and follow the WYCD Facebook (www.facebook.com/Add995WYCD) and Twitter (twitter.com/995WYCD) pages for updates.
"We are thrilled to have Rascal Flatts headline this year's WYCD Hoedown at DTE Energy Music Theatre as we celebrate their incredible 20-year journey on this year's farewell tour," says 99.5 WYCD Program Director Tim Roberts. "The band played the WYCD Hoedown in 2000 so this is truly full circle for them on this epic tour!."
Hailed as one of the most influential groups in modern country history, Rascal Flatts are a chart-topping trio created by vocalist Gary LeVox, multi-instrumentalist Jay DeMarcus and guitarist Joe Don Rooney. Since their founding in 2000 and subsequent breakout with the Top 5 hit, "Prayin' for Daylight," the band has gone on to infuse country's traditional mainstream with smooth-pop textures, arena-rocking energy and faithful positivity, impacting countless fans and fellow artists along the way. They've racked up 17 Number One hits, over 23.4 million albums sold, 35 million digital downloads, 2.2 billion streams worldwide and 4.4 billion streams solely on Pandora, while also selling over 11 million concert tickets and earning more than 40 trophies from the ACA, ACM, AMA, CMA, People's Choice and more, making them the most awarded country group of the past decade. The Grand Ole Opry members will bring an unforgettable chapter in country's long story to a close in 2020, celebrating their 20th anniversary with Rascal Flatts Farewell: Life Is A Highway Tour – the nationwide farewell tour of their celebrated career. For more information visit rascalflatts.com.