Catch a spectacular view of the Detroit skyline from Comerica Park, home of the Detroit Tigers. Fans flock to Comerica Park each summer to cheer on the Tigers. Not only home to the Detroit Tigers, Comerica Park has also hosted some of the biggest entertainment acts in the world.
The Comerica Park Box Office is currently closed and an opening date is TBA. For more information regarding postponement, rescheduled and canceled events, please visit our All Event Status Updates page or refer to the Ticketmaster Help Desk.
If you would like to contact the box office or make an appointment with a representative please click here.
For information regarding postponement, rescheduled and canceled events, Ticketmaster has provided a Help Desk.
Thank you for your patience and understanding during this unprecedented time.
Comerica Park is dedicated to accommodating the needs of guests with disabilities and their families/friends so they may enjoy their visit to Comerica Park. Comerica Park meets the requirements of the Americans with Disabilities Act. We also offer alternative features suggested by representatives of the disabled community. The staff at Comerica Park is pleased to offer the very best in service to all of our guests and is proud of our training in special needs. In the event a guest has not received or needs disabled seating not previously required, prior to entering Comerica Park they should proceed to the Main Box Office Customer Service Window.
Ticket requests for Disabled or Accessible seating should be directed to: (866) 66-TIGER.
Elevators are located on the first base side behind section 109 (for access to the MotorCity Casino Hotel Tiger Club and 200 sections) and on the third base side behind section 130 (for access to Suite Levels and 300 sections).
Can I bring my purse or bag into the park?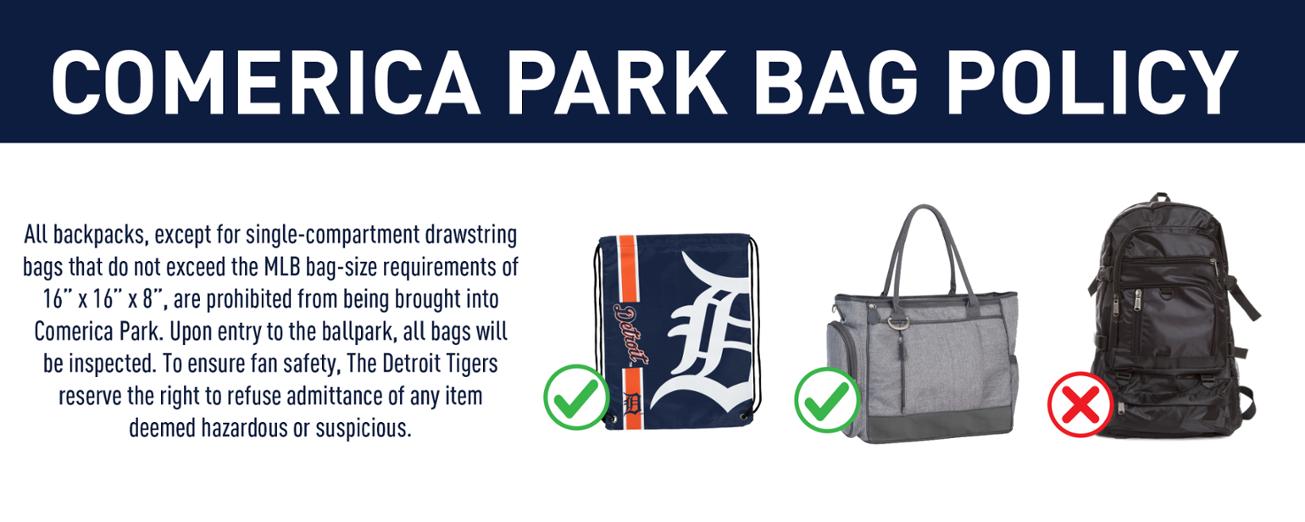 All allowable bags and purses are subject to inspection. Guests will be asked to return all non-permitted items back to their vehicle. Guests who are caught in the ballpark with a non-permitted item(s) will have the item confiscated and may be subject to ejection. Items left at the gate are not the responsibility of the Detroit Tigers.
What is the smoking policy?
Comerica Park is a smoke free workplace and venue (except for the Cigar Bar which allows the smoking of cigars only). This includes e-cigarettes and vape pens. Guests wishing to smoke may do so at the designated location outside the ballpark behind section 140 on Brush Street. Guests entering the smoking area must pass through security screening including metal detectors upon reentry. Alcohol is not permitted in the outside smoking areas. Guests with access to the MotorCity Casino Hotel Tiger Club may smoke cigars in the Cigar Bar. Smoking of cigarettes is prohibited in the Cigar Bar.
Can I bring a camera in the ball park?
Guests are welcome to bring still and video cameras into the park and may take pictures from their seats. Guests are asked to refrain from standing in aisles or obstructing others while taking pictures. Professional lenses, tripods, unipods, and monopods are not permitted in the park.
How do I contact lost and found?
Items turned in may be claimed at the main Guest Services office located behind section 130. To inquire about items lost after the game day, please contact Park Operations at 313-471-2438
Will the event be canceled due to inclement weather?
Comerica Park rarely cancels or postpones events due to inclement weather. Please be advised that tickets for all events are sold on a non-refundable and non-exchangeable basis (this stipulation is clearly marked on each ticket). Should a decision be made to cancel or postpone an event, the information will be posted immediately through the venue's social media outlets.
Doors are scheduled to open 90 minutes prior to game start for baseball games, and 60 minutes prior to show start for concerts. Door times are subject to change
Collapsible umbrellas are allowed. For the comfort and clear viewing of all guests, it is requested that those using umbrellas be considerate of those around them. (Golf umbrellas and oversized umbrellas are not permitted inside the gates.) Guests will be asked to take their umbrella down if it is obstructing the view of other guests.
What are the set times for my event?
Set times for each event varies, and are subject to change. Please reach out to our Guest Experience Team at [email protected] or 313.471.7425 for the most up to date event schedule
Where is the rideshare drop off?
The designated ridesharing staging area is on the westbound Fisher Service Drive at Woodward.
The Nursing Lounge is located near the Guest Service kiosk behind Section 210. The lounge offers additional privacy for mothers who wish to take advantage of it.