Trinity Health Ivy Lounge Passes
Only the designated primary contact for a Pine Knob Season Membership can request Trinity Health Ivy Lounge passes. Non-member requests will not be fulfilled. To learn more about becoming a member click here.
The Trinity Health Ivy Lounge is available exclusively to Pine Knob Music Theatre Season Ticket Members and their guest only when presenting their ticket or pass upon entry. Members can request up to 4 guest passes per show by submitting a request below.
All guests must have a ticket or a pass that says Trinity Health Ivy Lounge on them in order to gain access into the lounge. Passes are subject to availability.
How many complimentary passes are members allowed each season?
The number of complimentary guest passes available to your account per season correspond to your highest level of membership, as shown below. Once your account has used up all of your complimentary guest passes, they may be purchased for $10 each. The limit of 4 per show, subject to availability still applies.
Total Complimentary Passes Available for the Season:
Regal - 30, Elite - 26, Premium - 24, Encore - 20, VIP - 16, Select - 10, Lawn - 0
How do I know if my ticket or pass will get me into the lounge?
The Trinity Health Ivy Lounge is available exclusively to Pine Knob Season Members and their guests ONLY with ticket or pass that says Trinity Health Ivy Lounge on them.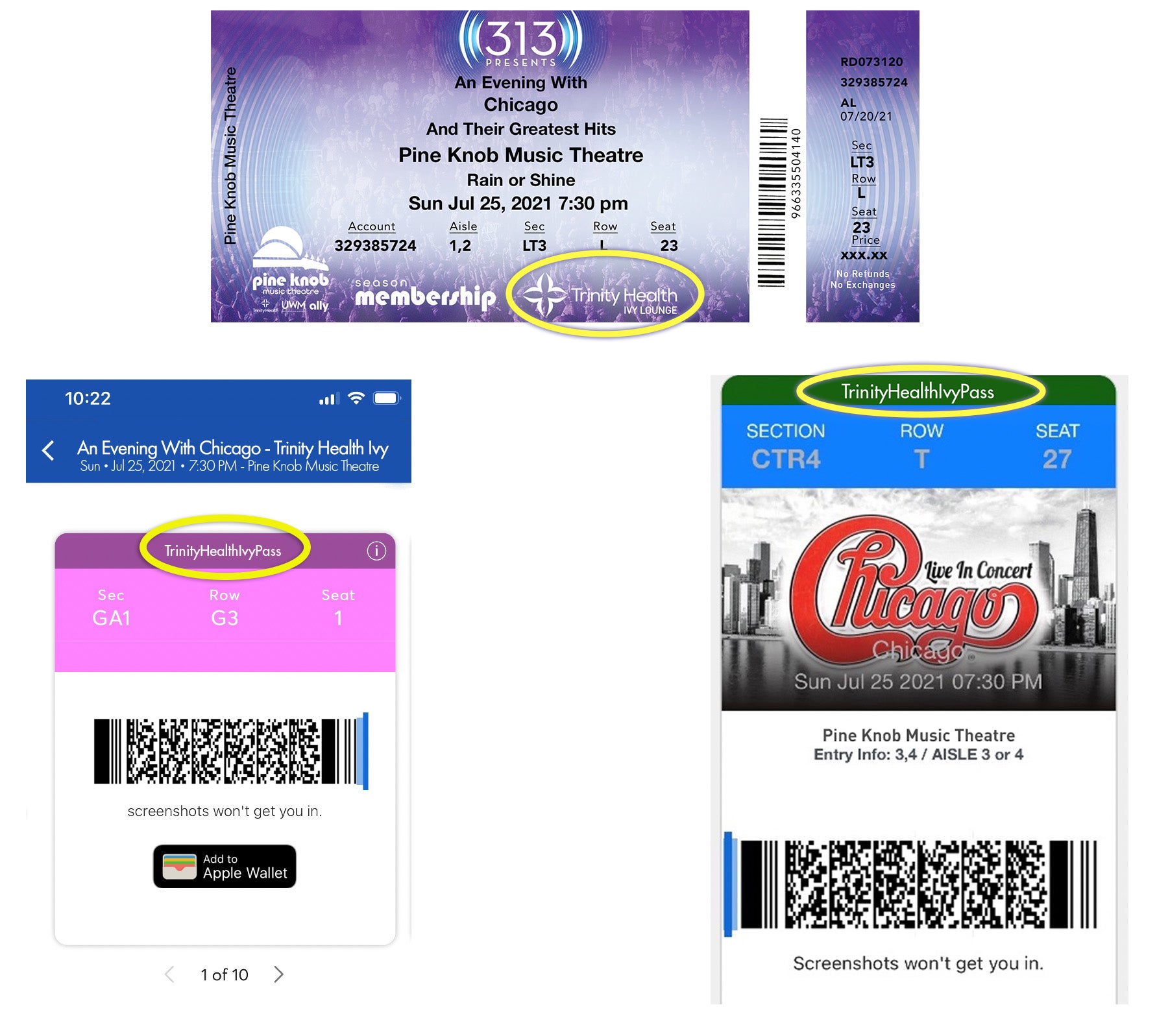 Is there a dress code in place for entrance into the lounge?
All guests with a pass are welcome to enter the lounge and are asked to be dressed appropriately.
Please note: The Trinity Health Ivy Lounge follows a "No Shirt No Shoes No Service" policy.
What is the smoking policy?
Smoking or the use of tobacco products is prohibited in the lounge. Smoking is also prohibited in the pavilion, restrooms, all premium areas, locations where food and/or beverages are sold and all indoor areas.
When do the doors open to the lounge?
Guests are permitted to enter the lounge before, during and about an hour after each Pine Knob Music Theatre show.
Who do I contact if I lost something in the lounge?
Found items are turned into the Guest Services Office near the main gate. Guests may inquire about items at any point during the event. After an event, guests may submit an inquiry at 313Presents.com/LostandFound.
Can I make a reservation?
Season Members can make reservations 48 business hours prior to the show but are not needed to access the lounge. Reservations are only available day of show until 12 pm.
Please fill out the form below to submit a request for Trinity Health Ivy Lounge Passes and you will be contacted by a 313 Presents Representative.